How To Clean Your Gutters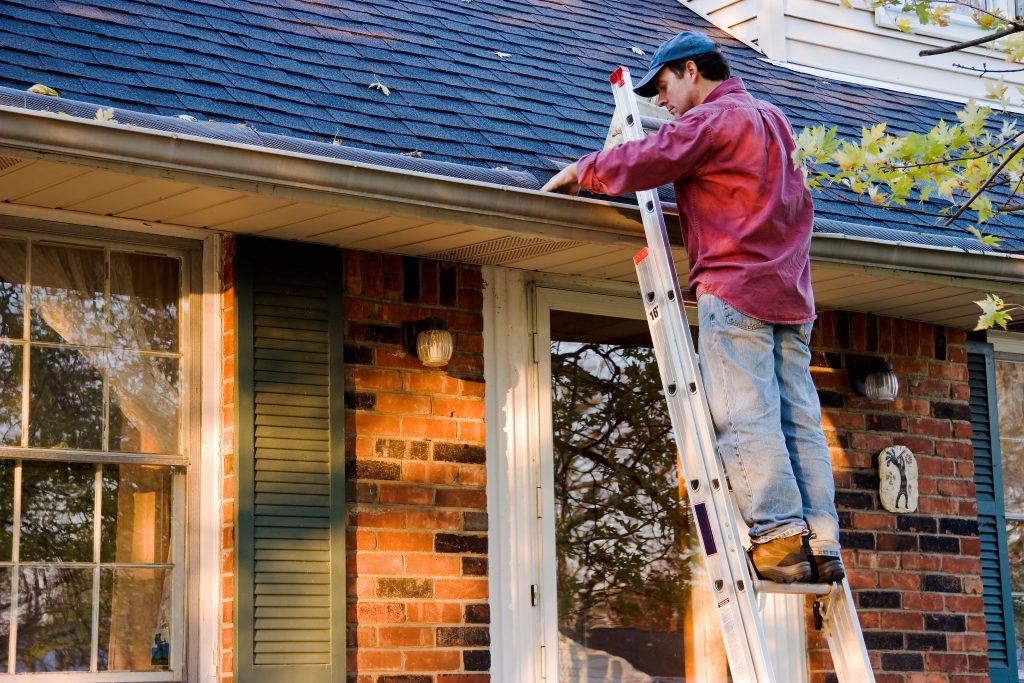 It may not be the most fun activity, but cleaning your gutters is an important part of home maintenance. With Spring in full swing, it's time to clean out the gunk that Fall and Winter have brought. Gutter cleaning is especially important for homeowners in rainy climates. This is because roof downspouts can collect a lot of debris over time like leaves and twigs. Properly cleaned gutters ensure that storm water doesn't get backed up or overflow into your home as well as keep water away from your foundation. If cleaning your gutters is on your to-do list this month, here are a few different ways on how to clean your gutters.
Is Cleaning Your Gutters Necessary?
Gutters keep water away from your home's foundation. They also prevent leaves, twigs, and other debris from entering downspouts and causing clogs. Keeping gutters free of leaves can prevent the gutter from detaching from the house. While gutters do require regular maintenance, they're easy enough to clean with a simple rake or broom from time to time. Without gutters, your roof could be at risk for damage, and your home at risk of flooding during a storm.
Ways To Clean Your Gutters
Without a Ladder
Cleaning your gutters without a ladder is definitely one of the safest ways to do so. While a ladder may make it easier, there are plenty of tools that can help you in cleaning from afar. Some options to clean your gutters from the ground include garden hoses and gutter rakes. 
With a Wet/Dry Vacuum
A wet/dry vacuum equipped with the hoses and curved attachments you need to reach the obstructed gutters from ground level is another way to remove debris from your gutters. Most home improvement stores even sell specific kits for this style of cleaning your gutters. Once all debris is removed from your gutters, you can flush them out with a simple garden hose to make sure even smaller dirt clumps are removed.
With a Leaf Blower
A leaf blower is a powerful tool for clearing out debris from the gutters on your home or even from the drains of a newer home. It's also ideal for sweeping away leaves, twigs and dirt around your yard or driveway. A downspout nozzle attachment is designed to release a powerful stream of air, allowing you to clean out obstructions more effectively than using a traditional rake or stick.
By Hand
When you live in an area with water and lots of leaves, your gutters are going to fill up fast. Cleaning them manually can be tedious, but it's necessary if you want to keep water from puddling on your roof. To do the job safely and correctly, you'll need a ladder, bucket, gutter scoop (or garden trowel), heavy-duty work gloves and possibly a plumber's snake. 
Remove the leaves and debris with gloved hands, making sure to place all larger pieces into a bucket to dispose of later. Once you have everything removed, simply flush out your gutters with a garden hose. This method may take a little longer, but it can also be proactive in being sure that all debris is gone. 
Give Your Roof the Care It Needs with Carolina Custom Contractors
Spring is the perfect time to get cleaning! Now that you are aware of how to clean your gutters in more than a few ways, it's time for you to get started.
At Carolina Custom Contractors, it's our responsibility to help homeowners protect and take care of the roof over their heads. We are here to help as your local Pawley's Island/Georgetown contractors! Whether you need an inspection or are looking to replace your entire roof, our team of professional contractors is ready to help you! Click here for a free consultation so our team can get a better idea of your project!