Key Things To Do If Your Roof Is Leaking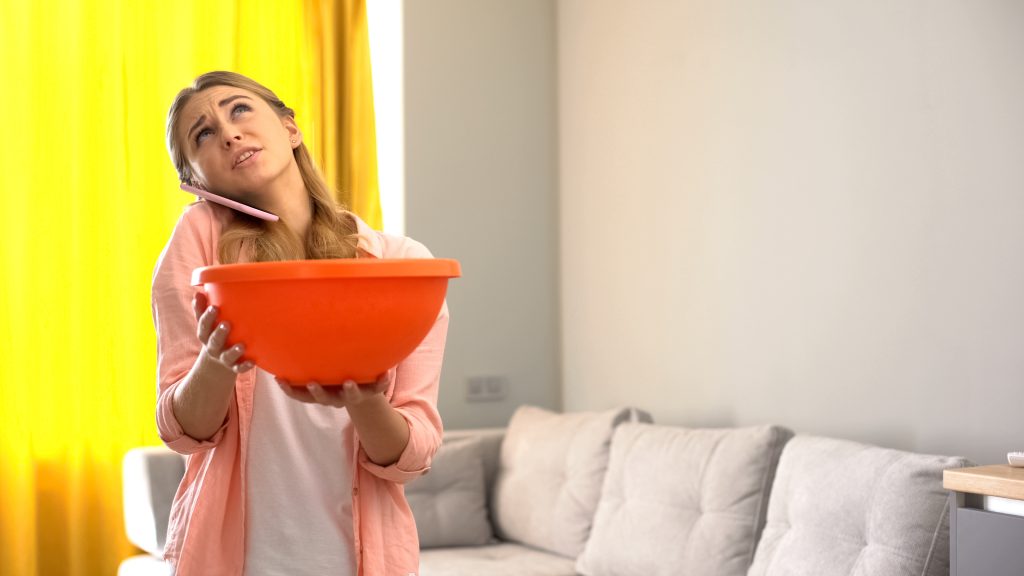 Leaking parts of your home's roof is never a good thing. Even worse, when left unattended and repaired, it can lead to serious water damage inside your home — even if you live in an area that rarely gets rain. Water damage is a serious risk to not only the exterior of your home but also everything that resides under your roof. Roof leaks aren't fun for homeowners, but fortunately, there are some things you can do to keep them at bay. When you find a leak in your roof, it is best to take action as quickly as possible. Not sure of the steps? Here are a few key things to do if your roof is leaking.
Things To Do If Your Roof Is Leaking:
1. Tarp Important Items Inside Your Home
If your roof is leaking, it can cause damage to almost every room in your home depending on the leaking area. Your attic, ceilings, and all your belongings in your home are susceptible to water damage. This will ruin some of your belongings in the process, so limit water damage and stains by using a bucket or a tarp to cover carpeting, furniture, and other important home items that you can't move.
What you can move should be taken out of the room immediately. Any electrical appliances such as lamps and chargers should be moved to a safe location. While a bucket or tarp is a temporary solution, it can stop any water damage while the issue is being resolved.
2. Contain Water As Best You Can
If your roof is leaking and causing a mess, try to contain the water as best you can. Grab any buckets or pots you have lying around, and use them to catch the water. You can also use towels or sheets to soak up the water. Do this regularly – if left to its own devices, water can cause damage to your floors, walls, and ceilings.
Make sure to empty these regularly to ensure no overflow or excess damage.
3. Check Your Water Pressure
Water damage can often be spotted quickly: a sagging bulge hanging from the ceiling is a sign that there's water collecting in that spot. If you leave it, the water could spread and cause more severe damage to the ceiling—or even worse, to your home. While it may not seem like the best idea, consider poking a small hole into the bulge to release some of the pressure. While this may cause another leak to look after, it will stop major damage that could occur from leaving it alone.
4. Tarp Your Roof And Fasten Down
If you can't get your leaking roof fixed right away for some reason, a tarp is the next best option for keeping water out. Covering a problem area with a tarp when the roof is safe enough to climb will stop water from pouring into your home and causing bigger problems in the future. The tarp should be fastened correctly with roofing nails to make sure it does not move from the affected spot.
However, sometimes these issues are hard to spot. So make sure to inspect closely. If you cannot get into your roof, make sure to call a professional roofer, like Carolina Custom Contractors, to inspect for you.
5. Take Photos
If you're looking for the most important step in things to do when your roof is leaking – this is it! Documenting all your damages, even small spots, will come in handy when speaking to your insurance company about the claim. This is a step that cannot be skipped!
When determining what items were damaged by a roof leak, you should account for everything. This means going through every room inside your home to document and photograph all damaged. From televisions, kitchen appliances, bedding, furniture, and carpeting. You can never have too much evidence.
6. Call a Professional Roofing Company
As a homeowner, you may feel like it's your job to fix the leak yourself. But many leak sources can be hard to find and may go unnoticed, causing more damage over time if left unchecked. If your roof is leaking, it's best to call the pros at Carolina Custom Contractors. The longer you wait, the worse the problem could get — and that's no fun for anyone."
The best way to ensure your roof is fixed correctly is to hire a professional. A trained and licensed contractor will be able to repair the damage, assess other spots on your roof that may need repair or reconstruction, and provide you with an estimate for future work.
Fix Your Leak with Carolina Custom Contractors
At Carolina Custom Contractors, it's our responsibility to help homeowners protect and take care of the roof over their heads. We are here to help as your local Pawley's Island/Georgetown contractors! Whether you need an inspection or are looking to replace your entire roof, our team of professional contractors is ready to help you! Click here for a free consultation so our team can get a better idea of your project!